Welcome to our web store! Owners Vickey and Jennifer would love the opportunity to extend a friendly "Hello" in person if you find yourself in the Dallas area. We are within an hour of most Dallas metroplex locations. Call or email for directions to our store. What makes us unique is our friendly service and the early 1900's rustic brick building located in a small east Texas town. With twenty feet high pressed tin ceilings and over 5,400 square feet of showroom, we offer an abundance of inspiration with our samples that are on display throughout our store. Customer satisfaction is our main priority. We want you to feel at home when you visit our website or our store. Since we do not have every item in our store listed on this website, please e-mail , if we can help you in finding fabric, any book, or notion. We are here to serve your quilting needs.
Quality Quilting Products and Unique Gifts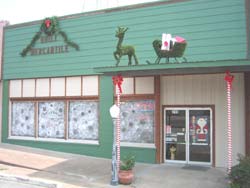 We hear quite often from our customers that we have a great "mix" of fabrics. Because quality is a priority with us, we carry only top quality 100% cotton fabric lines. We have over 3,000 bolts of carefully selected fabrics. Vickey loves the reproduction fabrics and Thimbleberries by RJR fabrics. Jennifer loves to find new Block of the Month projects, as well as the Jim Shore figurines, Beanpod soy candles, Lakehouse fabrics, and western fabrics. Our selection of Lakehouse fabrics are continually growing. Lakehouse designer Holly Holderman has a unique style and we look forward to each new fabric line. Quilt Mercantile is an Elna Sewing Machine dealer. These machines are excellent sewing, serger, and embroidery machines at a very good value. We stock a large variety of embroidery design disks by Dakota Collectibles, The Stitch Connection, and others. We stock Robinson Anton rayon embroidery threads and the complete line of the new Hemingworth Polyester embroidery thread with their innovative spool and cap system which is superior to any other brand. We have various stabilizers and products to support machine embroidery. We carry the complete line of Presencia hand embroidery floss. We have a variety in the Presencia perle cotton balls size 8 and size 16. We are also a dealer for the Sylvia sewing tables. We carry Jim Shore figurines and Beanpod candles to help with your gift needs. If you would like to get a feel for who we are, please take a look at the About Us page and see the slide show of our store.
Secure Online Shopping
All online credit card transactions are completely secure. We accept Visa and Mastercard. If you prefer to give your credit card number by phone, please select the 'phone check-out option', and then call with your credit card number to process your order. Please see our policies statement for information about shipping charges and other shop policies.
Thimbleberries fabric has the traditional look that we try to represent in our store. Since we have participated in Thimbleberries Club block of the month program several times after opening in 2002, we have an abundance of Thimbleberries fabric by RJR. We have many other RJR fabric lines also. We try to always have the complete RJR Cotton Supreme Solids in stock. These quality RJR solid color fabrics have a subtle gradation of tones from one color group to the next to provide you with the exact color you've been searching for.
With hundreds of bolts of 30s reproduction fabrics, we might have that special one you have been hunting. Vickey chooses her favorite 30s fabrics from Marcus Brothers, Robert Kaufman, RJR, and Maywood Studio. If you are looking for Civil War era reproduction fabrics, you will find over a hundred bolts in our Civil War reproduction fabric section. Since reproduction fabrics are Vickey's "first love" in the quilting arena, we continually add more and more for you to choose from.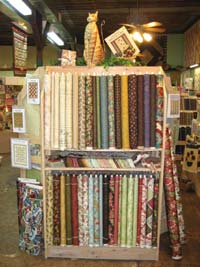 Western fabrics are very popular in our East Texas town and beyond. Jennifer has a very serious addiction to western fabrics and has informed all of the fabric representatives to let her know when a new western fabric line is available! We have hundreds of bolts of western fabrics by the following companies combined: Moda, RJR, Michael Miller, Alexander Henry, Maywood Studio, Robert Kaufman, Marcus Brothers, P&B Textiles, Timeless Treasures, Shamash & Sons and Avlyn. We have used some of the best western fabrics to make several shop samples, with kits of the fabric, to feature our timeless western fabrics. We have patterns and quilting stencils designed to showcase your western fabrics and western themed quilts.
Moda fabrics are well represented at Quilt Mercantile. You will find over 1,200 bolts from Moda—western, fall, bright, children, outdoor, and so much more. Moda fabrics cover all the bases. Our large selection of the wide fabric used for quilt backings are a great value and make backing a quilt trouble free. We carry some of the 54" and 108" wide backings by Moda and other manufacturers. We have used Moda fabric in several of our block of the month projects.
To see our current block of the month projects go to the Block of the Month section in the shopping area. Fabrics for each of our Block of the Month projects are carefully chosen. We use only top quality fabrics. We do not recommend washing the fabric in the monthly kits since you are working with such small pieces. We typically will have three to four blocks of the month going at all times. The Quilt Mercantile fabric kits will follow the designer project as closely as possible. If not, we will post a picture of our sample.